INGREDIENTS//
The 'Limon Canaliculata' or 'Furrowed Lemon' is an old Italian variety first mentioned in eighteenth century Tuscany. It features prominently in a painting by the Medici artist, and still life specialist, Bartholomeo Bimbi. The fruits are a small, measuring up to 7cm or so in length and maybe 5cm in diameter. The skin is a pale yellow colour and has furrows which run the length of the fruit and give the cross-section the appearance of a flower. The fruit itself is aromatic, juicy and relatively sweet. The peel is mildly bitter and very aromatic. Our examples are from the Orangery at the Schönbrunn Palace in Vienna.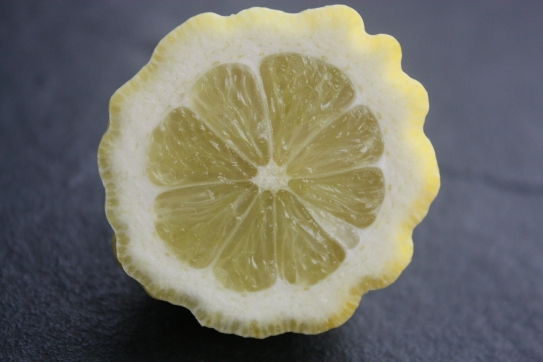 Limon Canaliculata or Furrowed Lemon
home
A visit to friends and partners from Steirereck...
next
News
+ + + + Restaurant:
Liebe Gäste!

Unser Restaurant "Steirereck" im Stadtpark hat 30. & 31.Mai 2013 geschlossen.

Familie Reitbauer und das Steirereck Team
News
+ + + + Meierei: "Eiszeit in der Meierei"
Behalten sie kühlen Kopf an heißen Tagen mit unserem "Pulverschnee", Eis & Sorbet

Liebe Gäste!

Unsere "Meierei" im Stadtpark hat am 30. & 31.Mai 2013 geschlossen.

Familie Reitbauer und das Steirereck Team

News
+ + + + Pogusch Country Inn:
Der SULMTALER KAPAUN ist wieder da!
       Bestes Hendl der Welt.
       Für 4 Personen pro Person 22,-
Bitte RESERVIEREN!
+ + + + + + + + + + + ++ + + + + + +
In unserer 2 Hauben Küche kochen wir
+ +AUTHENTISCH. VERTRAUT.+ +
            aber auch
+ +RAFFINIERT.EINFACH.
WIR MÖCHTEN JUNGE TALENTE ANZIEHEN UND UNSER WISSEN WEITERGEBEN.
      03863/2000